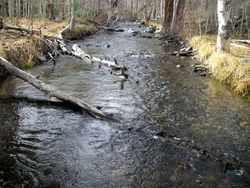 Superior Court Judge James Garbolino had ordered the Los Angeles Department of Water and Power and Mammoth Community Water District to reach a settlement in their legal dispute or go to trial by the end of this month. Instead, LADWP has requested a two week extension.
LADWP filed lawsuits over a year ago that claim Mammoth has no water rights in Mammoth Creek because Los Angeles owns them. Water District officials strongly disagreed and pointed to state allotted rights to Mammoth from more than sixty years ago. LADWP persisted. Mammoth fought back with a high-powered public relations firm.
LADWP General Manager Ron Nichols finally engaged in settlement talks. Water District officials hoped that a final agreement would be in place by now. When asked about developments, Mammoth Water District Manager Greg Norby said that lawyers for Los Angeles and for Mammoth Water District were on a status conference call yesterday morning.
Norby said that LADWP requested a roughly two week extension "to further consider the draft settlement principles which our respective legal counsels have developed." Both sides signed a confidentiality agreement not to talk about settlement details. Originally, LADWP officials wanted Mammoth Water District to pay some $2 million to buy water for LA. Mammoth officials refused.
Norby said that Judge Garbolino set February 14th as the date for the next status call in court. He said that at that time there needs to be "substantially complete principles ready and okayed by both parties or the court ends the tolling or delay agreement and re-starts the lawsuit proceedings."
On another note, Water District Manager Greg Norby's last day is Wednesday, January 30. He said that the Water Board would meet to consider appointment of an interim general manager at a special meeting Wednesday morning. Norby said this would likely be an existing senior department manager as the District Board continues recruitment for a permanent manager replacement.