State legislators have let more than 70 days go by their budget deadline. Their delays have begun to hurt our local hospitals, especially Southern Inyo.
Locally, our hospitals rely on MediCal dollars from the state as part of their cash flow. The State has failed to pay anyone since July.
At Mammoth Hospital, Administrator Gary Boyd said that MediCal business makes up 12% to 15% of revenue at the hospital. Boyd said the state budget impasse has impacted the hospital's cash flow and will continue to do so until officials adopt a budget.


Administrator Boyd said the state issues have not impacted service but delays remain a concern. Boyd said he expects state payment in 30 to 60 days. He said, "It's not a real, real negative impact yet." Boyd said he understands the State owes service providers $3 billion.
At Northern Inyo Hospital in Bishop, Administrator John Halfen said that in response to no MediCal payments, the hospital has put a freeze on capital purchases for a couple of months. Halfen said no other cuts will go into effect at this point.
At Northern Inyo, MediCal and County State Medical dollars make up close to 20% of revenues. Halfen said that for Northern Inyo Hospital, if the State delays for more than two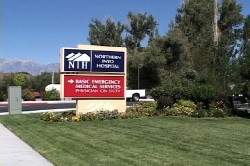 months, he will have to make more cutbacks.
At Southern Inyo Hospital in Lone Pine, Administrator Lee Barron said flatly, "This is an extreme crisis for us." Overall, Barron said that MediCal money makes up about 75% of the hospital's revenue, including the skilled nursing facility, outpatient services and the clinic. They are continuing to accept MediCal patients even though there are no payments.
Administrator Barron said that as a result of no State budget, Southern Inyo can't pay its vendors and has enough money to pay three more payrolls.
Barron said she advises citizens to bombard their legislators with calls. Let them know you want a budget. She said that the failure to pay hospitals and clinics in the State has put healthcare in California at risk.
Fortuntely, Southern Inyo Hospital has done well in recent months, pre-paying vendors and exiting bankruptcy early. But now, the picture looks grim unless legislators get busy and pass a budget.