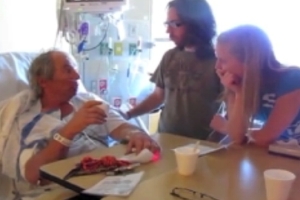 Many friends in the Eastern Sierra now watch the progress of long-time resident and well-known mountaineer Doug Nidever, hospitalized at Renown Medical Center in Reno. His son, Tobin Nidever told the Sierra Wave that his dad is out of ICU, and that's good news.
Doug Nidever suffered a heart attack and stroke at his June Lake home January 28th. Son Tobin said Nidever is out of ICU and in the neurology floor which is an improvement. He said his dad's swelling and hemorrhaging in the brain has stopped. "This is great news," said Tobin. "Things have leveled off."
A friend shot video of Nidever sitting up in bed with son Tobin and his fianc, Amie Libby. Tobin said Nidever would remain hospitalized for four to six more weeks while doctors monitor him. Then, he will undergo heart surgery.
Tobin said the support from the Eastern Sierra has been really great. He said the June Lake Women's Club will hold a fundraiser dinner for Doug on Valentine's Day at the June Lake Community Center. Family style BBQ food. You can get tickets at the door or check with Jill at the Tiger Bar or John at Ernies.
Tobin said, "The June Lake community has really come together for dad. It's unbelieveable."