Press release from Joshua Nicholson
Dear fellow residents of Inyo County and our visitors,
I, Joshua Nicholson, am announcing my candidacy for the office of Inyo County Sheriff in the June 5th, 2018 primary election.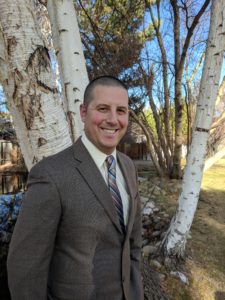 I have invested a significant amount of individual thought and prayer, as well as time consulting my wife, in making this decision. First and foremost, I am driven to ensure the safety of our county, which is and always will be the core tenant of my professionalism as a peace officer. Secondly, I have been honored and humbled by my peers (both within and outside our agency) who have asked me to run for Sheriff.
For three years now our department has seen a significant turnover of qualified deputies. We have lost 12 sworn peace officers in the last three years (2 of those being supervisors). This is approximately 35% of the personnel that patrol our neighborhoods and businesses, serve in the courts, investigate special crimes, and manage the jail. Whether in the private or public sector, losing over 1/3 of a workforce in a three-year span calls for change at the level of leadership. Such a loss of personnel also calls for a need to hire.
We currently only have two deputies patrolling our county, 10,000 square miles, at night. This leaves a large majority of our County without the presence of any deputies creating great risk for both them and the public. For Inyo County to address this gap in security, the department requires about 18 months and approximately 142,000 taxpayer dollars to process an application, train, and assign a newly recruited peace officer to a patrol of our neighborhoods. As Sheriff, I would work with the different associations and the county to not only recruit but retain our quality employees.
Along these lines, I will bring a proactive approach to policing. I plan on restructuring and reorganizing the Sheriff's Department to maximize our current resources to focus more on our youth and on our elders. Having served nearly four years on the BUSD school board, I have come to believe the policies and resources ensuring the safety of Bishop's youth can be greatly increased.
We can be much more involved with our youth by having a school resource officer present and fostering meaningful relationships with our children and faculty throughout the schools in the county. My years as a deputy have shown me that we need to be proactive in our communities as well. I have been shocked by how easily and how often our elder generations fall victim to internet scams and fraud. By adding door-to-door, educational prerogatives to an officer's daily patrol we can help keep our neighbors informed and up-to-date.
Finally, recently passed legislation have made it more difficult to fight the battle against illegal narcotics possession and sales. Our investigators are overloaded with person's and property crimes and have little time or resources to investigate the ever-growing opioid problem. I would like to add to our investigations team, increase youth education programs, and focus on rehabilitation. Proactively protecting our most vulnerable family members and neighbors should be at the forefront of our focus.
I have been a resident of Inyo County for nearly 26 years. Upon graduating from Bishop Union High School, I enlisted in the United States Army as a Combat Engineer. I had the honor of being called upon with my brothers and sisters in arms to deploy to the Middle East in response to 9/11. I was deployed to Iraq on two occasions for a total of 18 months: under Operation Enduring Freedom and Operation Iraqi Freedom.
Upon being honorably discharged in 2004, I began my path towards my educational goals where, at Santa Barbara City College, I enjoyed playing college football. I soon married my wife, Amy, moved to Sacramento where I earned my Associate of Arts Degree from Sierra College in Rocklin. I transferred to Cal State Sacramento University to major in Spanish with a minor in Criminal Justice. During that time, I reenlisted in the California National Guard where I was selected to be on the California State Honor Guard. I had the opportunity to honor our Fallen Veterans for two years until deployed to Kosovo.
While serving in Kosovo, I applied and was accepted to Columbia Southern University where I earned my Bachelor of Science Degree in Criminal Justice. Upon returning home, I was thankful to be hired by the Inyo County Sheriff's Department. I have served our community as a Patrol Deputy, Explosive Ordnance Disposal Expert, and a K9 Handler and Agitator. In July of 2014, I earned my Master of Business Administration (MBA) in Public Administration from Columbia Southern University. In November of 2014, I was elected to the school board for Bishop Unified School District where I have placed school safety as a priority.
I operate and lead by faith, family, and community. My faith is in Jesus Christ, my family is extremely important to me, and I serve my community in many different forms. My wife and I have three amazing children. We are members of Calvary Baptist Church and serve there where we can. I am a member of VFW Post 8988 and enjoy my time with my fellow Veterans. I have also enjoyed coaching football at BUHS, and I love serving the Sierra Roller Hockey League by coaching and refereeing.
I would like to close by reiterating my one core tenant as a peace officer: I am driven to ensure the safety of our county. I am committed to earning your vote. I offer you and the Inyo County Sheriff's Department the best, sustained path to safety and peace in our community. Please visit my website, nicholsonforsheriff.com; and you can reach me at my home phone (760) 258-1545 or email [email protected].
Thank you for this opportunity to serve our community.