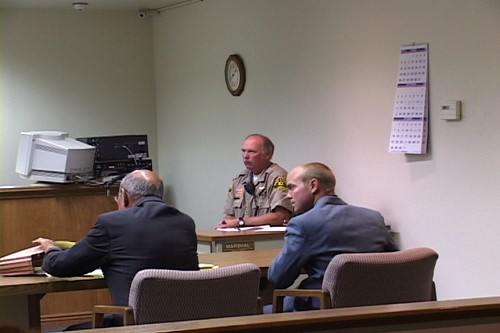 Zachary Jones, the man who has pleaded guilty to charges related to stabbing three people at a party in Mammoth Lakes, was in court again this week. The court appearance was scheduled as a sentencing hearing, but the final sentence for Jones was postponed until November.
Cleland Hoff was in the court room Monday. She reports that Zachary Jones had his lawyer and his father with him, as well as a handful of Vons employees for support during the brief proceedings.
Judge Stan Eller stated that with a twenty year old man looking at approximately seven years in a state prison, the court should have all input it can get.
Judge Eller explained that Jones would be sent to Tracy to undergo a 90 day diagnostic study by counselors and psychologists to determine if Jones would be a candidate for probation rather than state prison.
Eller clarified that the Department of Corrections diagnostic study was not binding, but the recommendation would be taken into consideration when Jones is sentenced, now scheduled for November 30th. Jones is out on bail and is required to report to the Mono County jail on August 20th to be transferred to the State Facility in Tracy for the diagnostic.
Outside the courtroom, Mono County D.A. George Booth said that he had no comments now, but he would say plenty on Nov. 30th.