The Inyo/Los Angeles Standing Committee met in Independence on Monday. Members of the Inyo Supervisors and the Inyo Water Commission met with a DWP Commissioner, local manager, and DWP General Manager David Nahai to follow up on issues agreed to a decade ago when both sides signed the Long Term Water Agreement.
With the Lower Owens River Project now flowing and work continuing on new groundwater pumping rules, the meeting was more of a progress report than a meeting to decide on issues.
Inyo Water Director Bob Harrington and Bob Prendergast with DWP discussed the ongoing changes to the green book groundwater pumping rules. Ditching the original plans spelled out in the Long Term Water agreement, these new rules, when finished, are expected to use the depth to the water table to determine when to turn the pumps off rather then the moisture of the soil around a pump.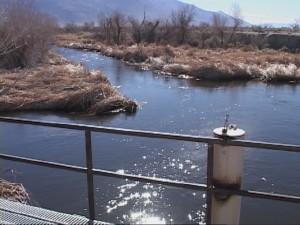 DWP Biologist Brian Tillemans gave the standing Committee an update on the Lower Owens River Project. It appears that with a year and a half of water flowing through the river, plus a simulated spring flood, there are still some areas that may need slight changes. An area near the Alabama Gates has not set a stream channel, leaving a large shallow flooded area that has now filled with tules. Tillemans said that it may be possible to shift the river into a different historical stream channel that would allow better flow, better habitat, and better grazing.
The first round of DWP land releases, (the 75 acres agreed to in the Long Term Water Agreement) has come and gone. Of 26 acres for auction in the first round, 2 acres were sold, according to Aqueduct Manager Gene Coufal. He explained that the minimum bid on each parcel was set at 10% below the appraised value of the land. With those appraisals done at the peak of the real estate boom, DWP General Manager Nahai said that the timing could not have been worse. The few buyers paid only the minimum bid on the three parcels that sold.
Citing the spirit, of the Long Term Water Agreement, Nahai said that the plan is to re-appraise and accelerate the timeline for sale in a way that is favorable to the buyer.
There was no set date as to when the second round of land releases would occur.
The Inyo and LA Officials are scheduled to meet again as the Standing Committee November 5th in Bishop.