Should the Coso Geothermal Plant take virtually all of the water out of the underground in far Southern Inyo and transport it to their plant? Inyo Water Commissioners said, no, in a meeting Monday night.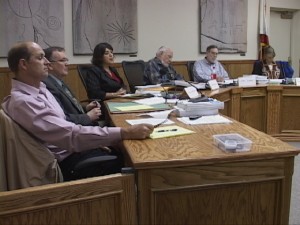 The Commissioners had met earlier and were unable to come to a conclusion. All of them expressed concerns about the amount of water Coso wants to pump.
The Geothermal company representative had claimed that their pumps would do no damage, but Chairman of the Water Commission, Rex Allen, said the Coso proposal would virtually destroy Rose Valley. Coso wanted to pump 4800 acre feet per year, the same amount of water recharge that goes into the valley each year.
Inyo Water Director Bob Harrington said that the Water Commission voted to recommend denial of Coso's Conditional Use Permit to pump water. They added that in the event the Inyo Planning Commission approves a permit, they must include a long list of mitigation measures.
The Inyo Planning Commission postponed their discussion of this issue which had been scheduled for their Wednesday meeting.
The unspoken issue of importance on Coso Geothermal – the fact that the company pays Inyo County nearly $12 million a year in taxes. The talk behind the scenes now – will the Inyo Supervisors, who are the final word on the pumping issue, chose money over the environment?