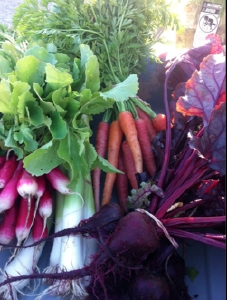 Inyo County Waives Temporary Food Facility Fees for Cottage Food Operators (CFOs) selling adjacent to Certified Farmers Markets;
Owens Valley Growers Cooperative announces support for south county CFOs to sell at Independence and Lone Pine Markets.  (Press Release)
Independence–On Tuesday Dec. 10, Inyo County Supervisors approved a plan to waive Temporary Food Facility Fees for certified Cottage Food Operators (CFOs) selling adjacent to and during Farmers Market Locations, saving CFOs $150 in fees per year. CFOs will still be required to apply for a Temporary Food Facility Permit, as well as complying with other CFO regulations and paying the lesser fees associated with becoming a CFO.
Owens Valley Growers Cooperative, who worked with the county to waive these fees, is hopeful that removing this barrier will encourage potential Cottage Food producers to take the next step forward.  OVGC, which will be operating the Southern Inyo sites for Eastern Sierra Certified Farmers Market year-round, hopes that Cottage Food producers will now begin to establish a presence adjacent to the market to make locally produced non-potentially hazardous breads and pastries, tortillas, jams, and dried goods available to the public.
With the support of a generous grant from the Branson Foundation, OVGC is pleased to announce reimbursement for South County -based CFOs (Big Pine and south) who agree to sell adjacent to the Independence and Lone Pine Markets for their annual CFO Class A Permit fees.
The Owens Valley Growers Cooperative's mission is to build a local, sustainable food system. Through community education, support of local agriculture, and the development of local market outlets, OVGC aims to increase access to healthy food choices, while developing enterprise for our local economy.
For information please contact OVGC at 510-468-7113 or [email protected].
www.facebook.com/OwensValleyGrowersCooperative