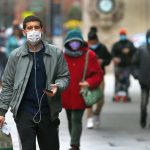 In a move that was largely anticipated, Inyo County Public Health Officer, James Richardson, has issued a public health order to the effect that anyone in the general public leaving their homes to access essential and non-essential services must wear cloth face coverings, especially when unable to maintain 6' social distancing. [A copy of the order can be found at the end of this article.
While this new public health order has been mandated, others are being rescinded. Those orders are:
Order issued 3/20/2020 – Temporary Prohibition of Non-Essential Public Gatherings, Required Social Distancing Measures, Closure and Limitations of Certain Businesses.
Order issued 3/31/2020 – Businesses Operating During COVID-19 Note: Despite the rescission of these local orders, many of their provisions remain in effect statewide pursuant to the Governor's current executive orders and guidance. The public is advised to review those orders & to contact state or local health departments with questions. Those that remain in effect are:
A May 8, 2020 revision of the Order issued March 27, 2020 that requires self-isolation and quarantine for individuals who are diagnosed with COVID-19, and their close contacts.
Order issued on April 23, 2020, amended and superseded the Health Officer order issued on March 31, 2020 and prohibits certain short-term rentals.
Order issued on April 27, 2020 provides for universal use of face masks at all residential, long-term care, and skilled nursing facilities and provides guidance as to the types of masks that can be used under certain conditions. For more information on the Revised Inyo County Health Order visit: https://www.inyocounty.us/sites/default/files/2020-05/Rescind-Certain-Local-Health-Orders_5.8.20.pdf
For more information on the Revised State of California Health Order visit: https://www.gov.ca.gov/wp-content/uploads/2020/05/5.7.20-EO-N-63-20.pdf
Parking Lot or Drive-in Gatherings: The California Department of Public Health indicated that as of May 7th services held by churches or school graduations, can occur using a "drive-in" model in which each vehicle is occupied by only common household members, appropriate 6 foot social distancing between vehicles is maintained and masking orders are followed.
[pdf-embedder url="http://sierrawave.net/wp-content/uploads/2020/05/05.08.2020-Inyo-HO-Order-re-Face-Coverings.pdf"]