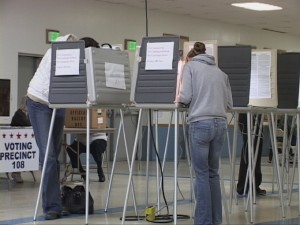 In our two counties, it was not a good night for incumbents. In Mono County, semi-official results show two new supervisors and a run-off. In Inyo, 1300 absentee votes county-wide still need to be counted, but the semi-official election report from Inyo County indicates a likely new supervisor in District 2 and potential run-offs in Districts 4 and 5, with a new supervisor in District 5.
Results available on the Inyo County website for the first time show Jeff Griffiths ahead in District 2 with 312 votes or 51.57% of the vote. 50% plus 1 is all that is needed to win.
Incumbent Supervisor Susan Cash gained 211 votes or 34.88% and candidate Russ Aldridge, 80 votes or 13.22%. Inyo County Clerk Kammi Foote said it's too early to say how the final count of absentee votes will affect this race, although right now Griffiths has enough to win.
In District 4, Supervisor Marty Fortney has 330 votes or 40.44%. Mark Tillemans, 266 votes or 32.60%. Nina Weisman gained 190 votes which is 23.28% and Chrisopher Dangwillo, 29 votes or 3.55%. Depending on the final count, this race could see a run-off between Fortney and Tillemans.
In District 5, another run-off is likely and the incumbent is definitely out. Matt Kingsley gained 304 votes or 46.77% of the vote. Jim Gentry, 212 votes or 32.62%. Supervisor Richard Cervantes saw 134 votes or 20.62% of the vote.
Clerk Foote said that her staff will check signatures on the absentee ballots and have final results some time Thursday.
In Mono County, Fred Stump and Tim Alpers beat incumbents in their districts. In District 2, Stump gained 476 votes or 55% of the vote. Incumbent Supervisor Hap Hazard, 389 votes. In District 3 Tim Alpers won 449 votes or 67.52% of the vote while Supervisor Vikki Bauer received 216 votes.
In District 4, a run-off between Tim Fesko with 272 votes or 39.48% of the vote and Bob Peters with 296 votes or nearly 43%. Jan Huggans gained 121 votes.
In Mono County, Prop. 29, the cigarette tax, barely passed. In Inyo, it failed. In Mono, Phil Liberatore and Jackie Conaway were the two top vote getters for Congressional District 8. In Inyo, Gregg Imus and Jackie Conaway got the most votes.