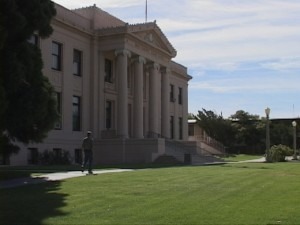 At last report, the Elections staff at the Inyo County Courthouse continued to process some 1400 absentee ballots that came into the polls election day. There may be an additional report sometime today.
Inyo County only had one contested election – Supervisor for District 1. All other County officials and one other Supervisor District were up for election but had no challengers. The lack of opponents left voters largely disinterested in the election. Voter turn-out was very low at around 9%.
As we reported, voters wrote-in lots of names on local candidates who had no challengers, and, again, that was most of them.
The District 1 Supervisor race still stands at Dan Totheroh with 311 votes; David Tanksley with 259; and Bill Stoll with 70.
We will let you know when there are more results to report.