In this election year, worries over voter irregularities are popping up across the country. The Eastern Sierra does not appear to be immune. Questions of second homeowners changing registration to vote in June Lake and Mammoth have prompted an official response in Mono County. Now an investigation in Inyo County has been confirmed.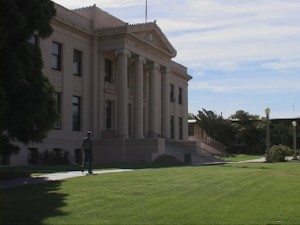 The State Attorney Generals Office has confirmed an investigation into the possibility of false signatures on petitions of a candidate for Inyo County Superior Court Judge. Spokespersons for the Attorney General declined to name which candidacy was involved in the investigation. She did say that the AG is looking at a volunteer petition circulator in relation to the allegation of false signatures.
Political candidates can gather petition signatures rather then pay the filing fees to run. The more signatures a candidate and their supporters can gather, the lower the filing fee.
These petitions in lieu of filing fees appear to be at the center of the investigation. Inyo County Clerk Mary Roper reports that the signatures in question were stricken from the signature count, but even without these signatures the candidate had enough to run and remains a legitimate candidate for judge on the November ballot.
The spokesperson for the State Attorney Generals Office did say that the investigation was being handled by States Attorney Jim Dutton. At this time, no charges have been filed. Again, this investigation has not affected either judicial candidate's position in the race, according to the County Clerk.