If weather forecasters prove to be correct, the major storm system headed toward California could lead to hectic conditions, closed roads, and power outages. Regardless of how severe the storms turn out to be, Eastern Sierra government agencies and emergency workers are gearing up just in case.
Staff from Inyo County, the City of Bishop, and Caltrans met with Highway Patrol and Inyo Sheriff Officers on Wednesday to coordinate efforts if the weather pans out.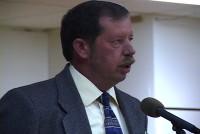 We spoke to Inyo County Sheriff Bill Lutze this morning he explained that Caltrans expects 395 to shut down Friday evening due to the predicted high winds and snow. With the usual Friday night rush to Mammoth, this would mean stranded motorists. Were planning on people getting stuck, he says.
Hotels are expected to fill up if the road is shut down. Lutze says that the county plans to open up an emergency shelter at the Home Economics building at the Tri County Fairgrounds for stranded motorists and others who need shelter.
Already today, 395 from Mammoth to the California State Line was closed to high profile trucks and RVs due to the high winds.
If Highway 6 shuts down and truckers cant get through, Lutze says that the Bishop Police have arranged to use the Vons K-Mart lot for big rig parking.
Another new precaution this year is that the Highway Patrol will turn people around at the Sherwin Grade rather than let them park on the side of the road to wait. Remembering fatalities in past storms, Sheriff Lutze says that people trying to go around road blocks are a huge concern.
If the power goes out for an extended period of time, the situation could become more troublesome. Heating can be an issue. Lutze recommends an alternative heat source for your home, but dont use a barbecue. Travel trailers and camping gear that you have around the house might be a good source of supplies.
Sheriff Lutze recommends having at least a three day supply of food on hand, but five days worth would be better, he says.
If the phones go out, Lutze reports that Law enforcement officers are expected to saturate their patrols. The idea being that with more cops on the street, people can flag an officer down rather phone it in.
While many communication towers are on high peaks where winds will be higher, Lutze says that most of the cell phone Towers are down in the Valley and built to withstand strong winds. These are expected to weather the storm.
How much comes in and where it hits is literally up in the air. Even if the storms arent as big as predicted, a bit of preparedness cant hurt. As Sheriff Lutze pointed out, were at the whim of the weather.