Lots of money for lawyers at this week's Inyo Supervisors' meeting. Officials say it's necessary.
First, the Board voted to approve a contract with Dana Crom for public defender services for 3 years. She takes over where Gerard Harvey left off. He was arrested for allegedly being under the influence of drugs and resigned.
The amount of the contract – not to exceed $453,790 over 3 years. County Administrator Kevin Carunchio said that other public defender contracts would go out to bid later.
The Board also approved an extended contract for Greg James to provide water and environmental attorney services with a contract limit of $80,000. When asked specifically what James does for Inyo, County Counsel Paul Bruce said that information is considered an "attorney work product" which must remain confidential under attorney-client privilege.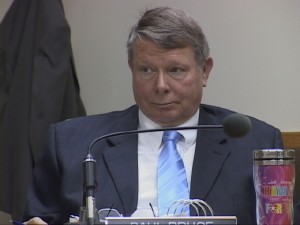 Bruce did say that James hands in an invoice every month that details the work he has done, but Bruce said we could not see those invoices since they, too, fall under attorney-client privilege.
The Supervisors also approved an extended contract with private attorney John Kirby with a contract limit of $200,000 for civil litigation services. Again, we could not see any documentation of the kinds of work Kirby does for the County.
With repeated rumors that Kirby is a personal friend of County Counsel Bruce, we asked him about that. Bruce confirmed that he and Kirby served in the Army Reserve together from 1984 to 1991. Kirby served as a colonel and Bruce as a major. Mr. Bruce said he sees no issue of conflicts or favoritism. He said the position went out to bid and an independent panel recommended Kirby.