By Deb Murphy
Inyo County budgets prepared by former CAO Kevin Carunchio have traditionally included appropriate Bob Dylan lyrics. The 2018-19 iteration was a little different.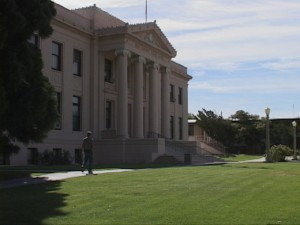 What was different was the choice of a down-in-the-dumps "Workman's Blues No.2" lyrics: "The buyin' power of the proletariat's gone down / Money's getting' shallow and weak." Compare that to what looks like an extraordinarily happy budget, approved at the September 11 board meeting. The budget includes funding for 15 new hires, $7.8 million for the initial lease payment on the consolidated County office building (if the Supervisors approve the move), and other goodies.
The General Fund budget outlines expenses totaling $60,510,529 and $56,651,053 in revenues. Including budget items earmarked by specific funding, the total budget shows $100,393,501 in expenses, $96,579,653 in revenues balanced out by $3,813,848 from the General Fund Balance—funding left over from last year.
Carunchio credits County department's rigorous work on Service Redesign with the health of the finances. The process encouraged department heads and staff to take a long look at "how the County provides … and funds services," according to the former CAO's budget prologue.
The healthy income comes from a realization of savings in the Juvenile Department and weight-based fee structure at the Bishop landfill. Other increased revenue streams came from secured property tax, court fines and property tax in lieu of vehicle license fees as well as sales tax and Transient Occupancy Taxes.
On the expense side, money has been earmarked for:
Property in Lone Pine for a County facility for Health and Human Services and Probation

Deferred maintenance projects

A replacement of the County's phone system

Upgrading or replacing software

County website redesign

The 21st Century Obsidian Project

Improved wireless voice and data coverage in the valley

The Environmental Assessment to establish commercial air service at the Bishop Airport
Apparently, Inyo's money isn't getting either shallow or weak.