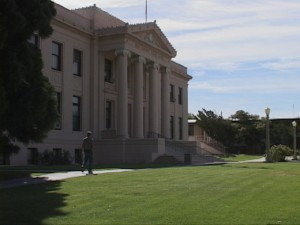 FOR IMMEDIATE RELEASE – Carma Roper, ICSO Public Information
-Public Event-
November 20th – National GIS Day in Inyo County!
November 20th, 2013 is National Geographic Information Systems (GIS) Day in Inyo County, and to celebrate the Inyo County Board of Supervisor's room will host a "map gallery" for the public between the hours of 2:00pm and 6:00pm.
In addition to several County Departments and local agencies contributing maps, there will be an interactive GIS display of ESRI's "Story Map" application, as well as mobile GPS units available for demonstrations.
GIS is being used throughout Inyo County – each respective department or agency has their own individual uses and applications.  An overarching goal for a GIS Day forum is to incorporate all of the different uses, in map form, under one roof in order to showcase the various uses of GIS and build and mature the GIS community.
The first formal GIS day took place in 1999 as an initiative to learn about geography.  This is the second year the County of Inyo has commemorated geography through a GIS Day celebration.  GIS day typically takes place the third Wednesday in November, during Geography Week Awareness Week.  We look forward to seeing you there!