Those who reported for jury duty in Independence Monday were told they could leave when the trial of James Williams and Mitchell David was postponed until September 8th.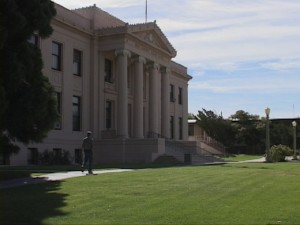 Williams and David were set for trial in an assault case. The two men are charged with assault with force likely to cause great bodily injury and battery with serious bodily injury after an incident on New Years Eve.
Assistant District Attorney Mark Johnson reports that the two are alleged to have gone to the Big Pine residence of Johnny Shoshone and assaulted the man. Johnson reports that Shoshone suffered a broken leg as a result of the incident.
The jury panel in the case was called in, but Johnson says that the jurors were sent home due a conflict of interest. The conflict arose, he explained, because both of the accused had been represented by attorney Gerard Harvey at different times during this case.
Williams had been represented by Harvey when Harvey was a public defender. Harvey then got in a tangle with law enforcement over allegedly being under the influence of a controlled substance and no longer works as a public defender. Johnson explained that the other defendant, Mitchell David, later hired Harvey privately, leading to the conflict.
Attorney Dana Crom will take on the defense of Mitchell David. The trial has been rescheduled for September 8th.