It fell down October 10th and went back up November 22nd – the bridge over Lake Mary Road was completely rebuilt in little more than 50 days.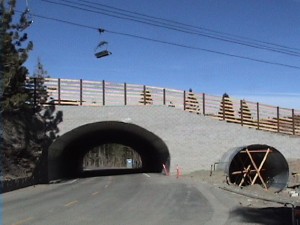 Town of Mammoth Lakes and Ski Area officials put their heads together and decided that they had to replace the collapsed bridge before Thanksgiving when lots of visitors are expected.
It was the night of October 10th that the bridge simply pancaked down to the ground. A piece of heavy equipment was on top of it, but no conclusions have yet been drawn on the cause of the collapse. A forensic engineer examined the scene shortly after the incident. That report is expected out after Thanksgiving.
Meanwhile, all involved decided to sort out costs after the fact and just get the replacement done. The Town handled much of the clean-up and Mammoth Mountain oversaw contractors who completed the new bridge.
Parts were ordered and arrived for assembly with new footings to fit the slightly larger width. Crews put together the new Contec Super Span bridge structure. That work was complete earlier this month. The job to backfill the earthen part of the job took careful work with an engineer who worked with the crews to get the job done by Saturday.
Crews worked from 6am to 10pm daily to make sure the new structure would go up before Thanksgiving.