PETS of the WEEK – May 5, 2010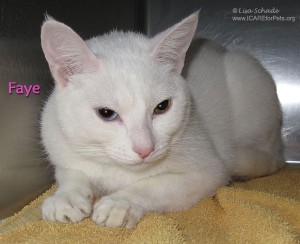 FAYE is

a beautiful pure white short-haired cat with one blue eye and one green eye. She used to live in a
van with four dozen other cats and is now looking forward to being someone's cherished and adored princess.

EDDIE isa great looking purebred German Shepherd dog. He is well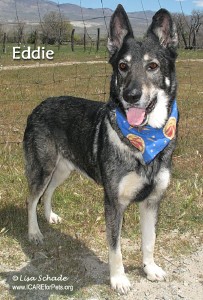 trained and even knows how to "shake hands/paws." He has an incredibly loving and gentle disposition. Come meet this sweet dog and take him home before someone else does!

The

Inyo County Animal Shelter

has an amazing selection ofadorable cats andlovable dogs. Please adopt one today. Visit in person on County Road in Big Pine or on-line at

www.ICAREforPets.org

.HOURS: Tuesday thru Friday, 10 am

to 3 pm,Saturday

and

Sunday 11 am to 4 pm

(closed Mondays). Phone

760-938-2715

. Photos by Lisa Schade of

ICARE