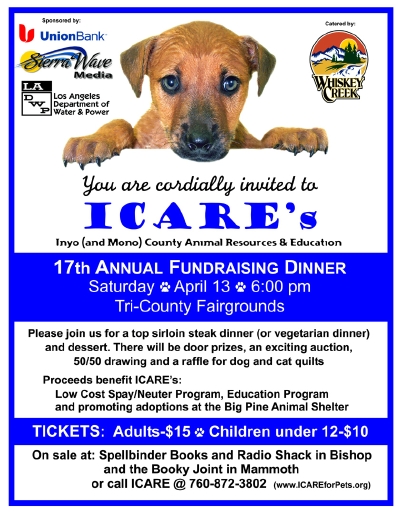 APRIL 13 – ICARE Fundraising Dinner
ICARE (Inyo/Mono County Animal Resources & Education) invites you to their 17th annual Fundraising Dinner on Saturday, April 13 at 6:00 p.m. in the Charles Brown Auditorium sponsored by Union Bank and Sierra Wave Media. The evening includes a top sirloin steak dinner or vegetarian dinner catered by Whiskey Creek, many door prizes, a 50/50 drawing, and a special raffle for two adorable quilts — one cat themed and one dog themed.
 There will also be an exciting auction of valuable art by local artists and other special items. Proceeds benefit ICARE's animal welfare programs (low cost spaying/neutering, ICARE Stitch Fund for ill or injured Inyo County Shelter animals and adoption promotion of Inyo County Shelter animals).
Tickets are only $15 for adults and $10 for children under 12 and are available in Bishop at Spellbinder Books and Radio Shack/The Sound Shoppe; in Mammoth at The Booky Joint or call ICARE at 872-3802.
ICARE (Inyo and Mono County Animal Resources & Education)
P.O. Box 76; Bishop, CA 93515
Telephone: 760-872-3802