Mammoth locals and world-renowned fitness gurus, Candice and Douglas Brooks, spoke Monday evening as part of Snowcreek Athletic Club's "Fit and Healthy Lecture Series." The theme of the lecture was learning how to make all the components of your workout align.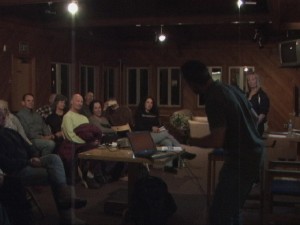 In a town where, as Douglas put it, "most people are passionate about some sport," the Brooks' cutting edge philosophies on getting the most from your workout made sense to many in the athletic audience. The couple emphasized integration of many components into your workout not only to keep things interesting, but also to avoid having your body adapt to one routine and so, not get the best results.
They also discussed integrated planning to build up many facets of your body. Everyone needs practice to keep the body's balance, speed, agility and energy availability at peak performance.
"You want to be able to have a steady state of being outside of your workouts too," Candice said. "So blend traditional workouts with variety."
The couple revealed a new bit of information.
Static stretching prior to workouts is out," they said. The two explained that science had finally caught up with exercise in this case and people were realizing the obvious: if you warm up and then do some static stretching, you are shutting down the nervous system all over again and injury is more likely. For example, when you see a soccer team do a great warm-up and then they go sit down and start stretching, it just seems counter-intuitive. They are slowing their bodies down after speeding them up.
Instead, the Brooks suggested a dynamic warm-up. The difference is simply that in a dynamic warm-up you would only hold a stretch for three to four seconds while in static stretching you would be holding a stretch for 10-15 seconds. The couple emphasized that static stretching at the end of a workout is still a desired activity.
"Now you've heard it, so go spread the word to your friends," Douglas concluded.
Look for more from the "Fit and Healthy" lectures at Snowcreek in the upcoming months.