With many of our towns on the east side lined up along major highways, the drama can unfold suddenly. That's what happened in the Monitor Pass area.
Seems a construction crew witnessed the violent wreckage of an 18-wheeler off the pass road and down an embankment. The supervisor of a construction crew there, Jonah Tebben, responded rapidly and helped save the life of the truck driver, trapped in the smashed cab.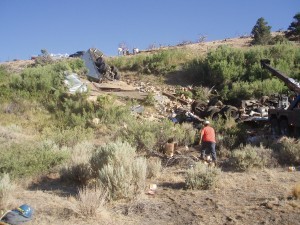 Tebben's mother, Cathleen Azzarello reported to KSRW that her son climbed down to the wrecked truck, as did other members of the crew, they stabilized the truck cabin and assured the driver that he would be rescued.
Ms. Azzarello said that a helicopter flew the seriously injured trucker to Renown Hospital in Reno.
It was not immediately known what caused the wreck, but from the pictures the driver seemed lucky to have survived. The truck wreckage did not burn, which allowed the construction crew to get in and help the trapped man.