Hot temperatures and a deep snowpack mean heavy runoff in local creeks and rivers. The National Weather Service has issued a flood warning for the West Walker River in northern Mono County, but high water remains a concern throughout the Eastern Sierra.
In the Independence area, the runoff has led to high water in Independence Creek and Oak Creek. DWP crews could be seen at Oak Creek digging into the creek to make sure the water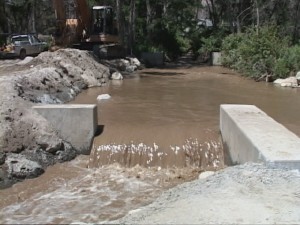 flowed into the proper channels. Chris Plakos with LADWP explained that crews were spreading water to recharge the aquifer. The spreading also directed potential flood waters in other directions to help avoid the Independence Indian Reservation and Kemp grazing areas.
The water in Bishop Creek is running high, but is expected to get higher once South Lake and Lake Sabrina are filled. The lakes are still low, with plenty of room to store water that otherwise would have filled Bishop Creek. Bishop Fire Chief Ray Seguine reports that Edison anticipates that both reservoirs will spill over this year, possibly in mid-July.
Mono County Sheriff Under Sheriff Ralph Obenberger reports that there has been some flooding on ranch lands along the Walker River, but no homes are threatened. There is also minor flooding reported in other areas of Mono County.
NWS officials expect the West Walker River to rise above flood stage tonight before starting to subside Wednesday morning. Cooler temperatures this weekend are expected to moderate the runoff as well.
Officials say that the high water tends to peak at night and early morning as it takes time for the snow melted during the heat of the day to make its way into the creeks and rivers.
Bishop Fire Chief Seguine asks people with ditches and creeks in their yards to make sure that there is nothing blocking the water flow that could back up the water and cause flooding.
High water can be more powerful than it looks, and can easily wash a dog or person into the current.
Mono Sheriff Officials report that two rafters got into trouble on the West Walker River in northern Mono County on Friday evening.
In a situation that could have been worse, Friday night, Minden Fire Dispatch called the Mono Sheriffs department to report that one of their units had spotted an overturned raft in the Walker River Canyon. Two people walking on the opposite side of the river were also spotted. Antelope Valley Fire, Marine Corp Fire, and Mono Sheriff officers responded to the area to help.
Under Shreiff Obenberger reports that the two victims were able to be picked up safely and all personnel cleared the scene in about an hour.