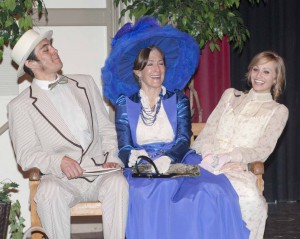 An impressive production of Hello Dolly! by Playhouse 395 opened in Bishop last week and this lively, colorful musical spectacular boasts a large cast of talented local singers and dancers.
Hello Dolly! is filled with toe tapping rhythms, memorable lyrics and energetic dance scenes. The musical numbers range from poignant solos to sweet and sassy duets to large ensemble chorus numbers.
Based on the book by Thornton Wilder, "The Matchmaker", Hello Dolly! was first performed on Broadway in 1964 and won ten Tony awards. It has become one of the most enduring musical theatre hits, enjoying three Broadway revivals, and in 1969 was made into a movie that was nominated for seven Academy Awards.
Friends and family of the cast and crew were invited to attend the full dress rehearsal on Thursday, March 15th and it was an elegant and polished performance. A few small technical difficulties and timing concerns between the orchestra and singers (to be expected in a dress rehearsal) were barely noticeable and the show promised to deliver stunning performances for the next three weekends.
I was so taken with the dress rehearsal that I went back on Saturday evening, March 17th, and was thrilled once again with the high standard of acting, singing and dancing resident in our small community.
It is turn of the century New York and the vivacious Dolly Gallagher Levi, is the woman who does it all. Need a husband? She'll find the perfect match. Can't dance? She'll teach you to polka in five minutes. Dolly has the charm and chutzpah to do it all. Now she has her eye on the 'half-a-millionaire', Horace Vandergelder, for herself. Beautifully performed by Karen Keehn, she commands the show with grace and elegance.
Local actors John Louth and John Millerburg share the role of Horace Vandergelder and, although different in interpretation, both are highly accomplished and amusing.
The supporting roles of Cornelius Hackl (Brandon Parker) and Barnaby Tucker (Ron Valenzuela) are superb and their sense of comedic timing is perfect. They are complemented by the beautiful and stylish performances of Irene Molloy (Rose Masters) and Minnie Fay (Abby Rossi).
The scenes move from Grand Central Station to Yonkers, New York and back to the big apple with classic comedy-of-error confusion, chaos and laugh-out-loud moments. Lavish costumes and clever sets make for an inspired and ambitious production and one that should not be missed.
Presented at the Bishop High School, Dorothy Joseph Auditorium, the next performances are Friday, March 23rd and 30th at 7pm and Saturday, March 24th and 31st at 2pm and 7pm. Purchase tickets online at www.Playhouse395.com or call (760) 920-9100.