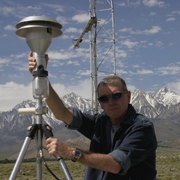 Sierra Wave weather forecaster Dennis Mattinson celebrates a birthday today.  Happy Birthday, Dennis! And, thanks for all the excellent atmospheric reports. Start your day with Dennis Mattinson right here on sierrawave.net or on Sierra Wave radio and TV.  Here is an excerpt from Dennis's website so you can get an idea about his many skills:
"Dennis Mattinson works as an EPA Program Director and an Air Quality Specialist for Fort Independence, located in the heart of the Eastern Sierra.
He specializes in the monitoring, measurement and movement of particulate matter 2.5 and 10 microns in size (known as PM-2.5 and PM-10). He also specializes in weather forecasting and the fact that he lives in the Owens Valley full time, gives him the edge on accurate Eastern Sierra weather.
Dennis was trained through the EPA to forecast metrological parameters, to better understand PM-10 migration through-out the Owens Valley.
He began forecasting on the radio (92.5 / 96.5 FM the SierraWave) in 2007. In 2008, TV-33 began using his local forecasts for broadcasts through the Owens Valley. Locals and tourists from all over the world use his weather information to plan their trips, including mountain climbers and other adventurers.
The movie "Iron Man" used his forecasts in their aerial filming of the mountains around the Alabama Hills. Dennis is also a professional aerial photographer (where forecasting in critical to his own safety) and his images are sold in various locations including his own websitewww.dennismattinson.com"