At the Bishop City Council meeting Monday night, council members discussed bids for the Hanby Street reconstruction project and a new push to build housing for handicapped seniors.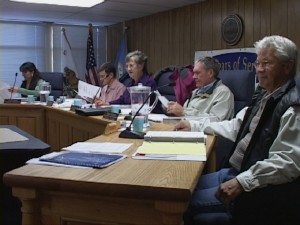 Public Works Director David Grah explained that the bids for the Hanby Street pavement recontstruction project had come back higher than expected. The city had estimated the project would cost about $290,000. The lowest bidder, Granite Construction, had put in a bid of $328,000. The City is expecting the federal government to pay $280,000 in stimulus money toward the project. In the end the council decided to make up the difference by spending some of the $250,000 in state proposition 1B money that the city still has.
A proposed housing project for handicapped seniors may yet come to fruition. City Administrator Rick Pucci explained that the City and IMACA had been close to building this project two years ago, but trouble with the various grants shut the project down.
Now both IMACA, and the Inyo Mono Association for the Handicapped are slated to help find funding for the project, Pucci explained. The previous plan was to build the apartments at Spruce and Yaney. The new plan is to build nearby, but this time the project would be built adjacent to the Sunrise Mobile Home Park.
The project is currently in the early stages, none the less, Pucci says, were excited about it.