At the Inyo Supervisors meeting today, issues of a grant, legal fees and zoning for internet antennas were slated for discussion and possible action.
Inyo Board agenda – http://www.inyocounty.us/Board_of_Supervisors/Agenda/2014-01-07.pdf
Mono Board agenda –http://www.monocounty.ca.gov/sites/default/files/fileattachments/board_of_supervisors/calendar_event/2291/01_jan_7_2014_agenda_only.pdf
The grant amounts to $600,000 from the US Environmental Protection Agency. Inyo and other counties would participate. According to officials, assessments have been made at the PPG Plant south of Lone Pine and the Mt. Whitney Fish Hatchery near Independence in a preliminary phase of the grant process. The purpose of the grant is to target potentially contaminated sites, conduct planning and begin the process to restore sites to "beneficial use for the community." The Supervisors will consider supporting this grant process.
The Planning Department has asked for a public hearing on an ordinance which would clean up the County Zoning Code, according to Planning Director Josh Hart. He explained that the ordinance would allow for repeaters for wireless internet antennas in several zones in which such use is now unclear. If the Supervisors vote for the ordinance, it would call for Conditional Use Permits to develop an internet antenna or tower in commercial, public and industrial zones. The internet structures are already allowed in other zones. Hart said because of Digital 395 there have been a lot of discussions about towers or routers to extend wireless internet service.
And, the Inyo County Counsel's office will ask the Board to amend the agreement with Attorney Greg James to increase his contract limit by $40,000 to a total not to exceed $100,000. The agenda item says James provides water and environmental attorney services.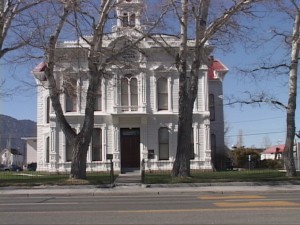 Both Inyo and Mono Boards will select new chairs and vice chairs for 2014.
The Mono Supervisors planned to discuss the County's 2014 legislative platform. The Board will also consider once again whether or not to continue holding their third regular monthly meetings in Mammoth Lakes. Since 2010, the Board has reviewed this practice annually and has voted to continue with Mammoth meetings on an annual review basis. This time the Board will consider whether to continue the Mammoth meetings for an indefinite period of time or to review the practice annually.