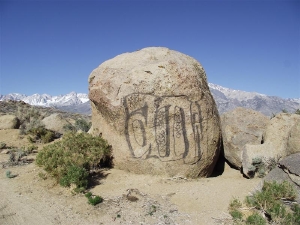 Dear Editor,
Recently, Joshua Tree Park was in the news for graffiti vandalism done on boulders.  It was so disturbing that they decided to shut down the park.  That is probably a first for that type of incident in our area.
Guess what?  Joshua Tree has nothing on us here in the Eastern Sierra when it comes to graffiti.  Huge panels have been discovered high in the Chalk Bluffs in the past.  We are not talking about amateur scribbling but the work of serious, professional graffiti artists.
I recently came across this new one out in Buttermilk by the White Cap Mine.  Just another headache for the forest service to clean up.
Things have gotten so bad around here lately that they have to leave a can of paint down at the silo off Dixon near Hwy 6.  Bless their hearts for cleaning that mess up, whoever they are.
99% of our graffiti around here is in partying areas and gang related. That is the reality of the situation in 2013.
We just can't get no respect!
david mcneill   bishop, ca