Earlier this summer, a certain resignation had settled over motorists as they waited for the $5 gallon of gasoline. Of course, the five dollar bill had already hit those in Lee Vining and Bridgeport. Then, something happened. Nothing to hyper-ventilate about, but good news nonetheless – gas prices started to go down and they continued to droop over more than a month.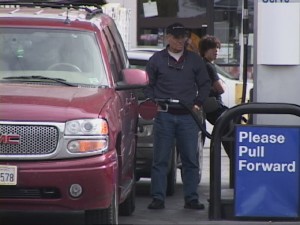 Locally, right now, a gallon of regular unleaded sells for $4.79 in Mammoth Lakes and an average $4.47 in Bishop and the Owens Valley. The state average fell 11.2 cents in the last 7 weeks. Pundits claim that as the price of crude oil drops, so will prices at the pump. We hope so.
Our prices in the Eastern Sierra remain much higher than the state average of $4.20. Some sources have said that our prices are higher because we are considered a resort market. Through investigations over the years, we do know that local station owners are not the ones profiting.
News reports on the second quarter profits of big oil companies shows who's raking in the bucks – Exxon-Mobile, Shell, Chevron and Conoco Philips.
Other gasoline factoids: Demand for gasoline in the U.S. has fallen as much as 4% from a year ago. Analysts point out that citizens now deal with high gas prices, inflation, a weak stock market and declines in housing prices. Their point is that even though gas prices have dropped some, they doubt that miles traveled and demand will jump up instantly.