Several  fundraisers are taking place over the next few days:
Bishop Union High School Ski/Snowboard Team
Warren Milleers "No Turning Back"
Thursday, Nov. 20 at BUHS Theater 7 pm
Tickets $10 available at Wave Rave and Looney Bean
###
NORDIC ROCKS!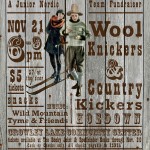 A Country Dance For All Ages
Sponsored by Eastern Sierra Nordic Ski Association (ESNSA)
and Mammoth Mountain Community Foundation (MMCF)
 A Fundraiser for the Mammoth Junior Nordic Teams
Live Music by Wild Mountain Tyme and Friends
Refreshments Available
Friday, November 21, 2014
6-9 pm at the Crowley Lake Community Center
$5 tickets sold at Booky Joint and Spellbinder through Nov 20
Cash and Checks only  – checks made payable to ESNSA
$7 Tickets at the Door
Children under 10 free
DONATIONS FOR MAMMOTH JUNIOR NORDIC TEAM ACCEPTED
Bring your family and friends to Nordic Rocks, ESNSA's inaugural country dance fundraiser! You will support the Mammoth JuniorNordic Team while seeing your friends, listening to fun music, eating good food, and/or stepping out and learning beginning country dances.  All ages will enjoy this event and you DON'T need a dance partner or dance experience. The dances to be taught are based on 17th century French and English folk dances that have evolved into the American contra dance, barn dance, and square dance.  The live music performed by local musicians will be down home, good feeling, acoustic music flavored by old timey, bluegrass, Celtic tunes.  To find out more about our country dance style, you can check the links below.
Welcome to Contra Dance http://www.youtube.com/watch?v=XuPbte5knOY
Virginia Reel     http://www.youtube.com/watch?v=uBBdgcHimoM
Heel Toe Polka http://www.youtube.com/watch?v=46K4V6xmOww
More advanced Square Dance http://www.youtube.com/watch?v=KevQxr-saFw
###
Bishop Union High School
Bronco Baseball Program 2014/15
"Lead Off" Community Mixer
                                             Saturday, November 22, 2014
6:00 p.m. Tri-County Fairgrounds, Home Economics Building – Bishop, CA
$25.00 or $30 the day of the event
Tickets available at:  Looney Bean  399 N. Main St., Bishop, CA
Price includes: Entrance to event; Music by 2nd Hand Smoke, 3 carne asada tacos by Rudy's Mad Dogs, beer/wine/spirits tasting and a Door Prize entry!
Silent Auction items, Raffle items, & a 50/50 drawing!
Get your tickets soon!   The door prize will be a $400 Gift Certificate from Reagan's Sporting goods!  Again, please see the attached flyer that is being distributed.  Our tickets are available for purchase at the Looney Bean.  We are in need of funds to purchase uniforms, equipment and we need help with the field maintenance.  Thank you for supporting local athletes!
###
"Valley Uprising"
Benefit for Mono County Search and Rescue
100% of proceeds to go to Mono County SAR
Saturday, Nov. 22, 2014
6:00 p.m. (movie at 7)
Canyon Lodge
Raffle after the movie with many great items or services donated by local businesses
Tickets $15.00 pre-purchase/$17.00 at the door.
Movie tickets available at Mammoth Mountaineering, Footloose Sports, Booky Joint, and Mammoth Gear Exchange in Bishop.
1 comp raffle ticket per entry
Raffle tickets:
$1 each
$5.00 for 6 tickets
$10.00 for 12 tickets
$15.00 for 18 tickets
$20.00 for 25 tickets
This is the 9th year that Reel Rock has produced a film. This years' film, "Valley Uprising", is "a documentary about the history of Yosemite rock climbing from Sender Films. It looks to be the most comprehensive (and awesome!) rock climbing documentary to date."  (Climbing magazine) From the Youtube description:
"Narrated by Peter Sarsgaard, the film features digitally-animated archival photography, spectacular climbing footage and interviews with Yosemite greats—from pioneers like Yvon Chouinard, Royal Robbins, Lynn Hill and John Long to cutting edge modern athletes like Dean Potter and Alex Honnold. Valley Uprising tells the story of the bold men and women who broke the convention and redefined the limits of human possibility in America's legendary national park."
For any business or individual interested and able to sponsor this event or donate an item for their raffle, please contact Jennifer at [email protected] or 760-914-2226.
Mono County Search and Rescue: "A volunteer team dedicated to saving lives. 
We do searches and rescues at any time, in any weather, for as long as it takes, for free…"
For more information regarding Mono County SAR:  http://www.monosar.org/
*Mono County SAR did not hold their usual yearly fundraiser this year, their golf tournament.