The big question for holiday travel – will Californians do it with gas prices over their heads? The Auto Club survey says that Fourth of July travel will drop below activity last year.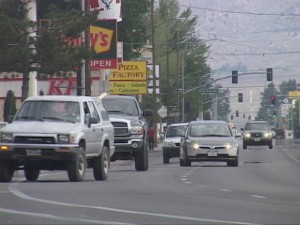 The survey sites record-high gas prices, higher airfares, a sluggish economy and concerns over the credit crunch as affecting holiday travel. This year will mark the first decline in Fourth of July travel in this decade.
The Auto Club report says "less disposable cash and an overall increase in travel expenses have caused Californians to postpone or downsize their holiday getaways." The one piece of good news for the Eastern Sierra – the survey says Californians have not given up on vacation plans. Most will travel 50 miles or more from home for the four-day week-end.
Possibly, the Eastern Sierra may see solid visitor numbers since Southern California views our area as a fairly close to home vacation destination.
Bottom line, though, gas prices have taken a toll on the entire spectrum of the travel industry. Airfares are up 13% and rental car rates are up 12%.
Some helpful press for the Eastern Sierra right now. The Monterey Herald published a story about our "breathtaking attractions and the leisurely drive here from Monterey Bay. Plus, the California Planning & Development Report, an urban planning publication, named Mammoth Lakes along with other cities as desireable vacation spots.
One more holiday note. The Auto Club has advised travelers to remember fire use restrictions in California in view of dry conditions and hot temperatures and hundreds of fires currently burning.