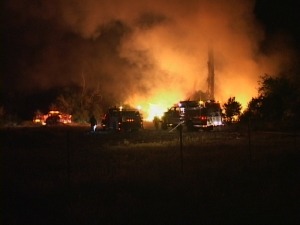 At 1 am Tuesday morning, fire broke out in an outbuilding on the Fort Independence Indian Reservation. The Independence Volunteer Fire Department responded and found the structure fully engulfed with flames. The fire burned dangerously close to other homes and to dense brush.
Fortunately, the wind was not blowing and firemen went to work getting hoses in place and water on the fire which quickly consumed the outbuilding and a vehicle. A propane tank exploded and sent a single, white hot flame high into the air.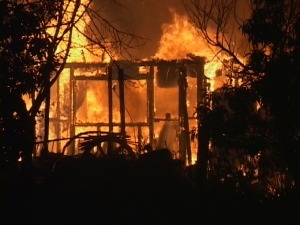 At around 1:30 am, fire officials called for mandatory evacuation of homes on several blocks of the reservation. At that time, an evacuation center was ordered to be set up at the Owens Valley School multipurpose room. About 10 minutes later, officials reported that the fire was coming under control and not spreading into nearby brush or to other homes. Evacuation was changed to voluntary.
Property lost was limited to the outbuilding and vehicle. No one was hurt. The cause of the fire remains under investigation. The agencies that responded included the Inyo Sheriff's Department, Cal Fire, Independence Volunteer Fire Department, Lone Pine Volunteer Fire Department and CHP.