The former sublessee of Cottonwood Plaza, Richard Maudsley of San Diego, has responded to allegations that he is responsible for the demise of the plaza.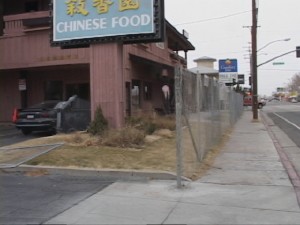 Maudsley, who is a real estate investor and owner of Bishop Plaza on North Sierra Highway, said he purchased a sublease for Cottonwood Plaza in 2004 for more than $1 million. Since then, he said he has tried to negotiate a longer term sublease with master lessee Chuck Caldwell. Maudsley said Caldwell was "not an easy man to deal with." In the end, Maudsley said his sublease of the plaza terminated June 30, 2008.
Before and after that date, Maudsley said Chuck Caldwell tried to demand that he demolish the back building of the center and the front building by September 28th. Maudsley said in an email to me, "I do not want to demolish either building nor do I believe that I should have to…."
Maudsley claims that Caldwell decided unilaterally that Maudsley was still obligated to manage Cottonwood Plaza after his sublease termination. Maudsley said Caldwell controls Cottonwood Plaza as master lessee until June of 2030.
I asked Maudsley if he understands Caldwell's strategy of driving out good-paying tenants and closing the center. He said, "I just don't know what his motivations are."
So, will the center be demolished? Maudsley said it's hard to know. He did say that the man who owns the land under the center, Lee Crosby, sent him a letter asking him not to demolish the plaza. On the other hand Caldwell is demanding he demolish it.
Maudsley said of the whole mess, "It's been a frustrating experience. I hope someone comes up with a good idea for the building."