The recent news in Southern California – record numbers of home foreclosures What about Inyo and Mono?
Jerry Core of Inyo-Mono Title said that his recent research shows that so far this year that 46 homeowners in Mono County have defaulted on their mortgages. 27 in Inyo.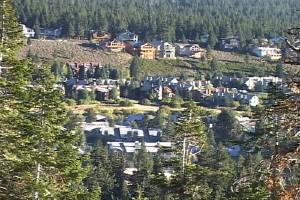 Core called these numbers very low, and said the Eastern Sierra is a unique economic environment. Inyo County is typically more stable. Mono County more investment driven. Core pointed out that those who have purchased prime property in Mammoth Lakes have largely paid cash. These are people with lots of money, not impacted by the economy.
The Los Angeles Times recently reported that statewide foreclosures have hit a record high. Comparing the second quarter of 2006 with the second quarter of 2007, the times shows an average increase in home foreclosures at 725%.
The Times story blames a sagging real estate market and tighter lending standards as causes for the loss of homes. Reports say that as housing prices fall, lendes are less willing to refinance loans.
Part of the problem – working people who borrowed money at a variable interest rate and found their payments far higher than their means to pay.
Locally, real estate has slowed down to a crawl with very few sales going on right now, according to Core. He said that sellers have not yet dropped their prices and buyers want to wait.
{mgmediabot2}path=http://www.extra.sierrawave.net/News1.flv|title=Headlines|path=http://www.extra.sierrawave.net/News2.flv|title=Complete Stories Part 1|path=http://www.extra.sierrawave.net/News3.flv|title=Complete Stories part 2|path=http://www.extra.sierrawave.net/News4.flv|title=Weather and Sports|width=160|height=236|displayheight=125|autoplay=true{/mgmediabot2}