Sheriff's officers described an assault in Lone Pine last month as "vicious". Officials said that for no apparent reason, five young men beat 29-year-old Ryan Armstrong, who suffered a broken jaw, fractured vertebrae, six fractured ribs, a fractured eye socket and several contusions. Now five of the six defendants have entered pleas of guilty to felony assault likely to cause great bodily injury.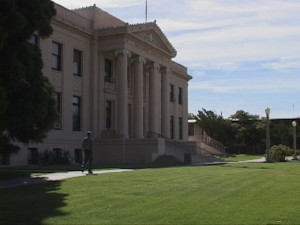 Inyo District Attorney Art Maillet said that the five also pled to an enhancement which means mandatory service of 85% of their court sentence, which could go as high as 6 years in state prison.
Maillet also said that the crime pled to is considered a violent and serious felony which warrants a strike, under the three strikes law. DA Maillet said his office will seek prison time for the five young men.
The five defendants are 20-year-old David Allen Smith of Lone Pine, 19-year-old Tyler Allen Mccullah of Bishop, 18-year-old Anthony James Jorgenson of Bishop, 18 year old Cameron Andrew Grayson of Bishop and 23-year-old Jose Garcia of Lone Pine.
19-year-old Wayne Russell Croasdale of Bishop recently surrendered to police in this case. He was booked at the Inyo County Jail for battery with serious bodily injury and assault with a deadly weapon. His case is still pending.
The five defendants will appear for formal Sentencing in early December.