Even as tenants and former tenants revealed details about the situation at the Cottonwood Plaza in Bishop, others said told of a strong rumor that the center would face the bull-dozer soon.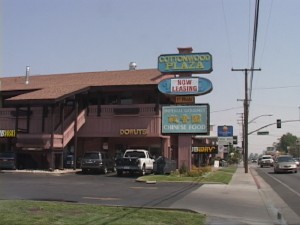 What we do know for sure – some tenants continue to negotiate new, 5 year leases with Chuck Caldwell. Some have said that the big city management firm has offered undesirable leases that call for penalties if lessees fail to stay open for any reason or if they park in the wrong place. The management firm also reportedly wants private details of all businesses' gross receipts.
Inyo County government offices located in Cottonwood Plaza have moved out. Officials could not achieve an agreeable deal. County government was paying more than $8,000 per month and now has saved money by re-locating offices to the former Water Department building in Bishop. Other offices have re-located to space in the old Kmart center.
At Cottonwood, Baskin-Robbins has closed its doors and there are reports of an independent ice cream store taking over. Devon's Flower Patch has decided to move and so has a beauty salon. Others may sign new leases or leave.
Some reports said that Caldwell would divide the old Thrifty Store space into smaller units for rent, but today workman were seen leaving before completion of work in the long vacated space. Some sources said that there are now plans for demolition of the center.
We have been unable to confirm that rumor with any local officials or with master lessee, Chuck Caldwell.