While 47 cats remain in the custody of the Inyo Animal Shelter, Catherine Maffioli appeared in an administrative hearing over the felines. Animal Control had seized the animals from Maffioli's van in July.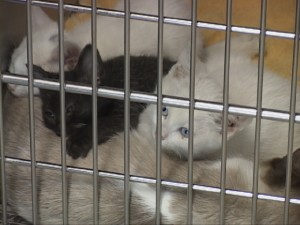 According to Inyo County Counsel Randy Keller, when pets are seized, the owner is entitled to a hearing and then has 14 days to pay the County's fees and costs for the cats. In this case, several thousand dollars.
If Maffioli does not pay, the cats belong to the County. If she does pay, she must also prove that she has a safe place in which to keep the cats. Keller said, "We are prohibited from putting the cats back in the same place from which they came."
The 14 day period is up October 30th. The case has attracted public attention because of the number of cats and the length of time they have been caged at the Animal Shelter – since last July. At that time the animals were found in Maffioli's van. The condition of the animals was described as crowded with one litter box and cats suffering respiratory disease.