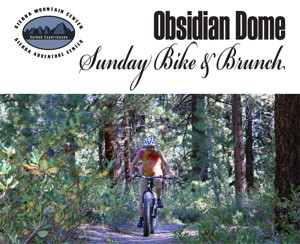 Bishop, CA: Sierra Adventure Center, a newly formed subsidiary of Sierra Mountain Center – California's premier mountaineering school and guide service, launches with guided fat bike adventures in the Eastern Sierra.
Visitors to the area will be able to enjoy the incredible scenic beauty year round by way of bicycle, snowshoes, float tubes, hiking boots and even up a rope on a rock face. These guided adventures will be geared toward visitors who want short trips of just a few hours or longer tours of up to a few days.
"With only a little experience and fitness everyone can enjoy the wonderful diversity we have here," says Gigi Van der Riet, newly appointed Project Manager for Sierra Adventure Center.
To kick-start the new venture the company is offering guided fat bike tours on the trails and dirt roads in and around the Eastern Sierra communities from Lee Vining to Lone Pine. While the weather is still good for biking in the high country the routes around Mammoth Lakes are still great for riding and later in the season routes in the Owens Valley will be perfect for those sunny winter days.
The company offers guided bike tours ranging from a couple of hours to a couple of days and tours are structured to give people of all ages and abilities, including families with children, the opportunity to enjoy an exciting ride with a high level of safety and an educational component. From preset routes to custom tours Sierra Adventure Center will craft tours to suit an individual or group so that all participants get the best adventure possible.
Tours are rated light, moderate and strenuous and, for the very adventurous, there is even a rating of ludicrous.
"As part of our ongoing commitment to great products and services we have created 'Sunday Bike & Brunch' rides," says Gigi. These are free group rides for all visitors and community members with a limit of 12 participants per ride. Riders must supply their own bikes and Sierra Adventure Center will supply the picnic brunch at the end of the ride.
"These rides are very important to us to make sure we're crafting the very best possible guided adventures and be confident that everything will be perfect for all our custom and preset rides," says Gigi.
The first Sunday Bike & Brunch is scheduled for Sunday, October 19th starting at 9am riding a guided loop around Obsidian Dome, just 10 miles north of Mammoth Lakes. In November theSunday Bike & Brunch ride will take riders around the Buttermilks on Sunday, November 2nd and on a tour of the Alabama Hills on Sunday, November 16th. To register for the rides call (760) 873-8526 or email [email protected].
Snowshoe tours will begin when the winter season sets in and these tours will also offer great opportunities for visitors to get into the foothills and mountains of the Eastern Sierra.
"With over 30 years of guiding in the Eastern Sierra we know our 'big backyard' better than anyone," says SP Parker, owner of Sierra Mountain Center. "There are few working guides who know the Sierra as well as we do, from the popular trails of the Sierra to the little-known places we have been exploring for years, we know more and can show you more than anyone else."
For more information call (760) 873-8526 or email [email protected].