Tired of the wait to zip on line? Some areas of the Eastern Sierra do have problems, but local officials have plans to conquer the slowdowns.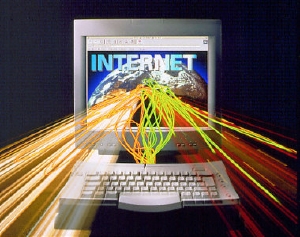 Mono County Supervisor Hap Hazard reports that there are currently plans in the works to improve broadband high speed internet access in our two counties. With small communities spread out across the region, Supervisor Hazard explained that his goal is to get high speed internet service to all areas of Mono County. Hazard explained that officials from Inyo, Alpine, and Kern Counties may also be interested in pooling resources on this plan.
In reference to the infrastructure of past times, Hazard describes the concept as the new railroad through the Eastern Sierra.
The idea is to use the government to get the towers and infrastructure going and then contract with private service providers to run the systems. What sort of infrastructure will be needed is yet to be determined.
Hazard says that government is good at securing land, permits, and dealing with the FCC, but the government is not good at providing service to homes and billing for that service. This is where the private sector would, in theory, take over.
While this plan is still in its infancy, officials from Inyo and Mono Counties plus Alpine and Kern plan to get together with officials from the State in January to discuss how to get a plan like this off the ground. If all goes well, Hazard explained that the next step would be to work with the state to get planning grant money that the state has set aside for broadband access in rural areas.