An accident in Bishop Tuesday night looked a lot worse than it turned out to be. The intersection is currently under study for possible straightening, and some residents support a traffic signal.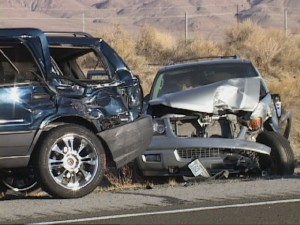 At about 7 PM, Tuesday, a two car collision at Wye Road and Highway 6 left one vehicle balanced precariously on its side. When the Bishop Police, CHP, and the Bishop Volunteer firefighters arrived on scene, a Toyota pickup driven by a young local man lay on its side in the center of the intersection.
It appeared that a bad turning decsion led to t-bone type accident. Despite the violent nature of the crash, the two occupants of the Toyota were unhurt. The Bishop Police report that there were no other injuries.
Traffic on Highway 6 was diverted around the scene while law enforcement investigated.
The tow truck from Mr. Ks then pulled the sideways vehicle back to horizontal to be towed, and traffic resumed.