Budget problems inside Eastern Sierra Transit Authority has brought that service to public attention. Questions have surfaced among the public about who ESTA services and if the working poor and elderly have slipped in importance.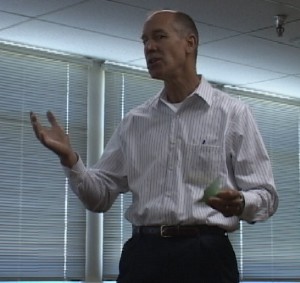 ESTA Director John Helm maintains that the Transit Authority "does not overlook this segment of ridership." Helm said the transit service started as one specifically for the disabled but has grown and expanded.
But what about a cut in Dial A Ride service in the summer which impacts employees and particularly the Hispanic population? Mr. Helm confirmed that one Dial A Ride vehicle has been cut during summer months since during the school year, special needs students require the service. Are the working poor left out in summer? Helm says that ESTA expanded the fixed route of the Mid Town Lift bus to fill in and take care of employees who need transit.
Reports had also indicated that Helm would close down the Bishop bus terminal location for the CREST bus and Mammoth Express. Helm said that's under consideration. He said the building, which used to house Greyhound, is closed to the public and used for storage. Parking and, at times, restrooms are available.
Helm said he had to look at the budget to cut corners where they could and he's still trying to decide on an alternate to the bus stop. "We're still looking at options," he said.
As for cuts in Dial A Ride in Bishop and Walker which were proposed, the ESTA Board will meet in Mammoth Lakes July 18th for a decision. Although Bishop residents had called for the meeting to take place in Bishop, officials explained that the Mammoth location will also allow people from Walker to attend and have their say.