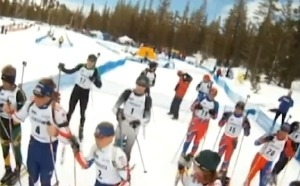 2012 Mammoth Biathlon
Yee Haw!
The Fifth Annual Mammoth Winter Biathlon is history, and what history you all made. Great range, great volunteers, great Elite and Nation Guard athletes. Great Wounded Warrior and Disabled Sports athletes. Great Citizen athletes. Great sponsors and donators. Great Tamarack Lodge and Cross Country Ski Center. Great Mammoth Mountain Ski Area. Great Town of Mammoth Lakes. Great Forest Service. Great everyone. Finally, but not least–indeed first–Great Mike and Kim. Thank you everyone–you, the community made it happen.
Final results are posted at http://esnsa.org/ .
LOST: Britt Cogan lost two Anshutz magazines to her biathlon rifle. If anyone finds them, please contact Britt at:
Next up  Sunday, April 1, the Mammoth Marathon which includes 42k and 21k races for adults, and 10k and 2k races for juniors and kids. Call Tamarack XC Ski Center for details, 760 934 2442 extension 8. Tamarack is, I believe,  the only Far West venue which will hold all scheduled races this season. Thanks for a great job Ueli and crew. The Mammoth Marathon is a great celebration and a great last race of the season. Don't miss it.
• • • Please consider volunteering for the Marathon. Ueli can always use your help. Call Ueli at the Ski Center. • • •
And, the season isn't over yet. Don't miss the Tour de Taste at Tamarack on Sunday, 8 April. A great end-of-season happening with super food and delightful camaraderie. Call the Ski Center for details.
Sue Wicks: Sportsmanship is knowing that it is a game, that we are only as a good as our opponents, and whether you win or lose, to always give 100 percent.
Ski Exuberantly,
Hank and Jim
Mammoth Lakes, California
Elevation 8083 feet in John Muir's Range of Light
To join ESNSA, please see http://esnsa.org/2011-2012_Membership.pdf for membership application.