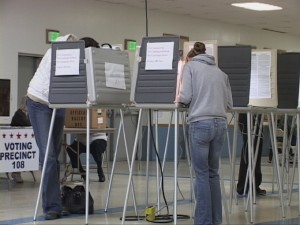 Before midnight, the election departments of Inyo and Mono counties tallied final votes on local candidates. Many focused earlier in the evening on the very close Presidential race and President Obama's early victory.
In Inyo County, the 4th District Supervisor race stood 4 votes apart in the semi official report last night with provisional ballots yet to count. Mark Tillemans gained 644 votes to Supervisor Marty Fortney's 640 votes. The 5th District Supervisor race was not so close. Matt Kingsley won with 527 votes to Jim Gentry's 421 votes.
In the Bishop City Council race, the three top vote-getters and winners are Dave Stottlemyre with 608 votes, Pat Gardner with 559 votes and Laura Smith with 513 votes. Susan Cullen gained 359 votes and Keith Glidewell, 353.
In the Big Pine School Board race, the three winners are Sandra Lund with 442 votes; Denelle Carrington, 420 votes; Carla Bacoch, 387 votes. Robert Vance gained 300 votes. In the Owens Valley School Board race, the incumbents won. Sandra Anderson with 189 votes and Aldene Felton, 132. April Zrelak had 104 votes. The voter turn-out in Inyo was 66.36%. See more results at http://www.inyocounty.us/Recorder/3rd_11-6-12_Summary_Report.pdf
In Mono County, the Elections Department reported a very high 83.05% voter turn-out. The Mono County website shows the semi official summary report. There are still some provisional votes to count which could affect close races.
In the District 4 Supervisor race, candidate Tim Fesko won with 561 votes. Challenger Bob Peters gained 484 votes. In the Mammoth School Board race, Shana Stapp won the most votes with 1,588. John Stavlo gained 1,386 votes. Stapp and Stavlo won the two open seats. Candidate Luis Villanueva had 826 votes.
In the Eastern Sierra Unified School District, in Area #2, John Peters won with 786 votes to Pamela Haas Duhart's 781 votes. In Area #3, James "Jimmy" Little won with 962 votes to challenger Arya Degenhaudt's 621 votes.
The Mammoth Hospital Board seats did not go to a race. Just enough candidates filed for seats available. The hospital board could appoint the three candidates to fill the vacancies at the end of November. The three who filed are Dr. Maria King, Dr. Stephen Swisher and Helen Shepherd.
See all Mono results at http://www.monocounty.ca.gov/. Under News and Announcements, click on election results.