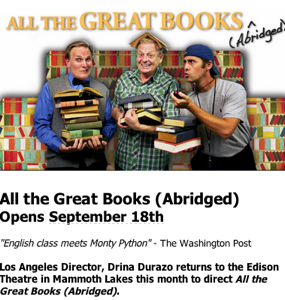 ALL THE GREAT BOOKS (ABRIDGED) OPENS SEPTEMBER 18th
"English class meets Monty Python" The Washington Post
Mammoth Lakes, CA – Los Angeles Director, Drina Durazo returns to the Edison Theatre in Mammoth Lakes this month to direct All the Great Books (Abridged).
If you liked Every Christmas Stories Ever Told (And then some), directed by Durazo last season, then this hysterical romp through all the great literature featuring a cast of thousands–but only three men, is the show for you.
Brian Stanton and Mark Atha, two of the three actors from last year's Christmas comedy, as well as cast members of Greater Tuna and The Bible: The Complete Word of God (Abridged), that Mammoth theatre goers will remember from previous Edison Theatre seasons, are joined by Doug Haverty to play a zany cast of characters in this comedic literary romp.
The audience is taken on a ninety-eight minute roller coaster ride of literary proportions that hurtles through eighty-six of the greatest books of all time.
"Actual greatness may vary," say the 'Bad Boys of Abridgement'.
Written by Reed Martin & Austin Techiner with additional material by Matthew Croke & Michael Faulkner, All the Great Books, (Abridged) has delighted audiences worldwide.
When you need only a little of Little Women or significantly less Crime and Punishment and when a Death in Venice is more than you want to know or if you're just thoroughly confused by Confucius then these may be the best Cliff Notes you'll ever get. You may not remember every detail of every book you ever read (or were supposed to read in school), but this "class syllabus" as the troupe calls it, is something you won't soon forget.
Drina Durazo brings a wealth of experience to this production at the Edison Theatre in Mammoth with numerous credits and awards to her name. She is a current company member of The Group Rep at the Lonny Chapman Theatre in North Hollywood where she directs and produces stage productions. Her stage credits include: as Director- Yellow Brick Ride, Moon Over Buffalo, Hotel Paradiso, I Sing Walt Whitman; as Producer- Sherlock's Last Case, Awake and Sing, I Sing Walt Whitman; as Assistant Director- The Trip to Bountiful, The Poor of New York, And Then There Were None, and A Kind of Alaska.
Durazo's talent is not limited to the stage with a recent film credit as Producer of Hell's Belles, which won 18 film festival awards and garnered Durazo the Best Producer Award. Her name also appears as Producer on the film The Meme, which is making the rounds of film festivals this year.
As a member of I.A.T.S.E. Local 33 (International Alliance of Theatrical Stage Employees) Durazo performs various staging services in Theatre and Television and some of her recent Television credits include: The Tonight Show with Jay Leno, General Hospital, and The 2013 Primetime Emmy's.
All the Great Books (Abridged), the second show of the Edison Theatre 2014-2015 season, opens on Thursday, September 18th and runs through Sunday, September 28th at the Edison Theatre in Mammoth Lakes.
Additional details about the entire season can be found on the MLRT's website EdisonTheatre.org.
FACT SHEET:
What:                                        All the Great Books (Abridged)
When:                                      September 18 – 28, 2014 / Thurs. – Sat. @ 7pm   Sun. @ 4pm
Where:                                     Edison Theatre/100 College Parkway across from Cerro Coso College
How much:                             In advance: $20/18/10; At the Door: $22
Purchase/Information:      www.EdisonTheatre.org  and (760) 934-6592
The Mammoth Lakes Foundation is dedicated to supporting higher education and cultural enrichment in the Eastern Sierra. Recent successes include: supporting Cerro Coso Community College, which recently graduated its largest class of students; creating and managing a state-of-the-art student apartment facility; providing a full season of professional-quality theatre in its 100-seat black box theatre; and providing scholarships to Mono County students to attend Cerro Coso Community College–600 scholarships to date. For more information or to make a tax deductible donation please contact the Foundation at (760) 934-3781 or visit www.mammothlakesfoundation.org. Our nonprofit work is only possible through your generosity.