Local growers of organic produce are enjoying brisk sales at the outdoor summer market held every Friday evening from 5:30 – 7:30pm in Bishop.
This annual summer market, now on a new day and in a new location, in Talmage Park on the corner of Main street and Academy, is expanding to include local crafters and artisans.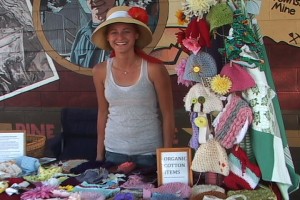 In addition to fresh, locally grown and pesticide free produce, such as beets, squash, arugula, carrots and much more, local artisans have hand crafted jewelry, baby clothing, homemade cup cakes, and decorative sculpture available for sale.
Organizers of the market hope to increase the number of growers and vendors and include live music performances and fun children's activities as the summer progresses. Ample parking is available behind the park and residents and visitors are encouraged to support the local growers and crafters of the Eastern Sierra.