What does the price of water have to do with Owens Valley mosquitoes? LADWP released lots more water down the river and aqueduct this month when the Metropolitan Water District raised its rates.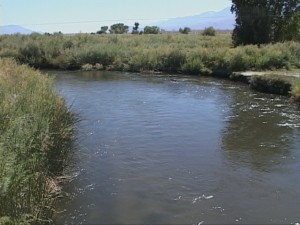 That's how it started.
LA bought water from the MET this summer but planned to stop when rates were set to go up this month. DWP's Chris Plakos said that LA had stored water in Grant Lake and Crowley Lake, also allowing levels to go up for summer recreation. Now that MET rates have gone up, water has been released from Crowley and Pleasant Valley Reservoir.
That's where the mosquitoes appear. According to Jerry Oser, Inyo Mosquito Control Manager, high water flows in the river filled oxbows and other low-lying areas around the river channel. Those areas, he said, created huge hatches of mosquitoes this month.
Oser said the crews have fogged quite a bit and will continue. He said most of the hatch came out in northern Inyo. He called Big Pine the worst location. The river, said Oser is farther from Bishop, so the insects have to fly in. He also speculates that the huge mosquito hatch followed air currents south to Independence where the bugs have been widely reported.
DWP did not notify the County of the increased river flows, so the mosquito control crew faced a late season surprise of the bad kind.