Kind of last on DWPs list the Inyo Supervisors who had their chance on Tuesday to press an LADWP official about the realities of their solar plans for the Owens Valley and whether theres anything in it for locals.
Martin Adams, Director of Water Operations for DWP, made a slight excuse when he started off by saying that its tough to
roll out plans fast enough to keep ahead of rumor and conjecture. In fact, the Inyo Supervisors had heard about DWPs mega solar plans for the Owens Dry Lake on local media, in the LA Times and reports from Los Angeles TV news.
Supervisor Susan Cash threw back DWP Manager David Freemans locally offensive TV statements that LA owns the Owens Valley lock, stock and barrel and plans to make it DWPs Solar Park. Mr. Martin responded that DWP has no plans to change any of the current commitments in the Owens Valley including ranching and mitigation measures. He took great pains to offer assurances that life as we know it in the Owens Valley would stay the same, with a few solar arrays here and there south of Independence and on the Owens Dry Lake.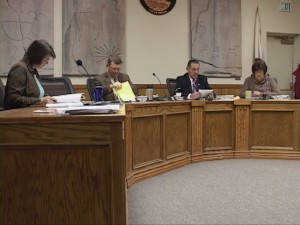 Martin said that the sun potential in the Owens Valley is almost un-matched. He called DWPs recent work toward solar development organized rampage. In fact, the local Air Pollution Control District had never heard of DWPs ambitious plan for solar panels. Martin said APCD officials are meeting with DWP in Los Angeles this week on the issues.
Martin offered that DWP would launch a master plan process for the Owens Lake and make new plans cooperative efforts. He said the State Lands Commission is willing to work with DWP on such a plan. LA will go to the State Lands Commission December 17th for a lease to build a solar project, probably scaled down from David Freemans 600 acre plan.
Supervisor Susan Cash and other board members pressed Martin. Cash wanted to know about benefits for Inyo people. She pushed for hiring local people to build the solar projects. What about a break on power rates? Others said more land is needed for housing for workers. Supervisor Cash wanted to know why DWP had moved rapidly on their own solar project but have dragged their feet on mitigating damage here. Martin promised fast movement on all matters.