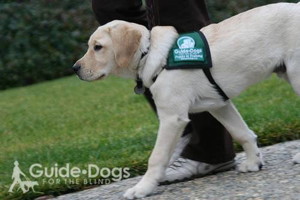 Local dog lovers invited to attend Community Information Night With Guide Dogs for the Blind and Pet Partners – Monday, April 29  (Press Release)
Do you love dogs?  Would you like to learn about serving others and our community by being involved with Pet Partners (formerly Delta Society) therapy animal program, or with Guide Dogs for the Blind puppy raising program?  Plan to attend an informational meeting on Monday evening, April 29 at the Mammoth Lakes Library.
The evening will begin at 5:30 p.m. with a presentation by Anne Parkes, local volunteer and evaluator with Pet Partners.  Pet Partners' Therapy Animal Program trains and screens volunteers and their pets for visiting animal programs in hospitals, nursing homes, rehabilitation centers, schools and other facilities.
The program was established in 1990 to ensure that "both ends of the leash," people as well as animals, were well-prepared to participate in animal-assisted activity and animal-assisted therapy programs. Pet Partners' Therapy Animal Program is the only national registry that requires volunteer training and screening of animal-handler teams.
At 6:30 p.m. the focus will shift to Guide Dogs for the Blind, and the local puppy raising group, Eastern Sierra Guide Puppies.  Betsy Thomsen, leader of the local club, will explain how Mammoth area residents can become involved as puppy raisers, puppy sitters or club volunteers.  Guide Dog puppies in training "Javier" and "Falana" and their puppy raisers Anne Parkes and Leigh Gaasch will be available to greet potential volunteers and answer questions.
Guide Dogs for the Blind provides trained guide dogs, free of charge, to visually impaired individuals in the United States and Canada.  This highly respected organization has two training campuses; in San Rafael, CA and Boring, OR, and is the largest guide dog school in the world.
The Mammoth Lakes Library is located at 400 Sierra Park Road.  For more information contact Anne Parkes at 760-920-0762 or [email protected] .  Betsy Thomsen may be reached at 760-258-1189 or [email protected]  .