Blueberry power. Experts in diet research recently reported that people who eat 2.5 servings of fruit and vegetables per day are "40% less likely to develop Alzheimers' Disease" and will enjoy better health in general.
Blueberries? Yep. But also blackberries, cranberries, grap juice, strawberries and walnuts.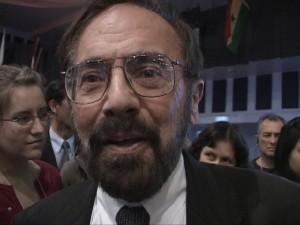 Dr. James Joseph of the Neuroscience Laboratory at Tufts University reported at the recent Loma Linda University International Congress on Vegetarian Nutrition that the simple act of eating these fruits and nuts led to anti-oxidant protection of the brain. In short, food that slows the aging process and delays the onset of debilitating disease like Alzheimers.
As we reported earlier, Inyo-Mono Public Health Officer Dr. Rick Johnson, this week, underscored the importance of diet and exercise to preserve health as we live longer.
At the Loma Linda conference, I had a chance to ask Dr. Joseph for simple advice for better health. He talked about a three-pronged approach, and he hit heavy on good input for your brain. Think of this as a three-legged stool. The first leg is eat a healthy diet, said Dr. Joseph, containing a lot of fruits, vegetables and walnuts. The second thing is exercise. The third thing is exercise your brain. Stop watching these stupid TV shows, because every time you do, you watch the shows like You know what they are. I dont need to mention them. Every time you watch these shows, you lose neurons. Think about that and youll never watch another one. If you want to watch the History, Discovery or Nova channels, they have very good shows to watch. Stay away from the other stuff. Its demoralizing and depressing. Eat a healthy diet.
There you have it. Better diet, exercise, and quality enjoyment time. It's good for your brain cells, according to the scientists.