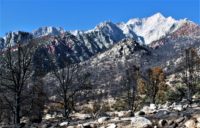 FORECAST AREA: The Owens Valley / The Town of Mammoth Lakes 
BY: Dennis Mattinson, Weather and Atmospheric Forecaster
FOR: Sierra Wave Media / KSRW-FM 92.5 / Online

MON JAN 17 2022 4:08 AM PDT 
SYNOPSIS:
Well if you liked the weather last week, then you won't be disappointed by the weather this week. It's going to be more of the same, dry. Except for a dry open wave moving up into SOCAL today, bringing cloudy weather to our area, the storm door has pretty much been slammed shut. All Due to strong high pressure sitting off the West Coast into the Great Basin. Looking farther out, the blocking pattern created by that strong ridge off the Coast continues to limit chances of precipitation in our Forecast area. Things could change of course, but right now any big storms before the end of January look unlikely…DMATT

SHORT TERM:

BISHOP & THE OWENS VALLEY – BISHOP AIRPORT: (KBIH ELEV. 4121 FT / 1256m)

Today: Partly sunny —> mostly cloudy. 55 / 29.
Tuesday: Mostly sunny. 56 / 26. 
MAMMOTH LAKES (ELEV. 7129 FT / 2172m)
Today: Mostly cloudy. 41 / 23.

Tuesday: Mostly sunny. 40 / 22. 
Dennis' Probability of Precipitation: 10% – Unlikely; 20% – Slight; 30 – 50% – Chance; 60 – 80% – Likely; 90 – 100% – Certain